Beer Yoga for Men? Finally Something To Try With The Wife?
Hold onto your yoga pants guys!  There is finally a version of yoga I could get behind, and it involves beer!  My wife has often, well, used to, ask me if I'd try different types of work outs with her.  This experiment ended quickly after she almost killed me with Tae Bo with Billy Blanks back in the day.  I almost had a heart attack and couldn't walk in a straight line for a week.  Oh, it works, but I'm a big guy and weight lifting and the treadmill at an incline is more my speed.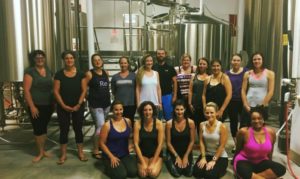 So imagine my delight when I saw a morning news report talking about a new type of yoga becoming popular in the U.S. – beer yoga!  Yes, you do yoga poses with beer.  Even better, they're holding classes in breweries!  I'm not sure what mad genius came up with the idea, but bless you!
Eat Yoga Drink is one example I found with a quick Google search talking about the philosophy and locations around beer yoga.  So if you've been thinking about trying to find that perfect activity you can do with your wife, look no further, you've found it!
For the record, I've not run this by my wife yet, but we'll see what happens!  Oh, and for the love of all things holy guys, don't wear yoga pants!
Comments