Have You Tried Yuengling Beer Yet? Why The Hell Not?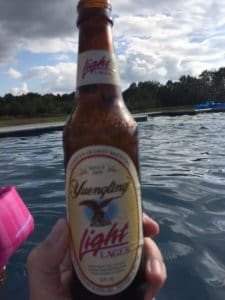 Have you tried Yuengling beer yet?  If the answer is no, you probably live where you can get it.  I was recently introduced to it by a buddy who spent some time in Nashville, TN on vacation.  He liked it so much he bought a couple of cases and brought it home to drink.  He gave me a couple (that's my story) one night and the rest is history.  Now anytime I know anyone going to Nashville (or where they sell Yuengling), I have them pick me up a case or two of the light.
I grew up in St. Louis and have always been a pretty big AB guy, but I'm a little less brand loyal now that they were sold.  Don't get me wrong, I'll still drink Ultra and Select, in fact I have Ultra in the keg right now, but there's just something about it the fact that the local company was sold.
Enter Yuengling, which claims to be America's oldest brewery started in Pottsville, Pennsylvania in 1829.  You can read about the company's history at http://www.yuengling.com/our_story/ – but the interesting fact is that they simply couldn't keep up with product demand in the 90's and withdrew from some markets.
Over the past couple of years the company has slowly been expanding their distribution and I'm hoping that they offer the great state of Illinois (I couldn't help but chuckle when I wrote that) a shot soon!  Until then, I'll have to settle for the occasional road trip to stock up.
So, if you're out at the store or local watering hole and see it as an option, give the light a try.  It's a great tasting light beer that actually has some body to it.
Comments